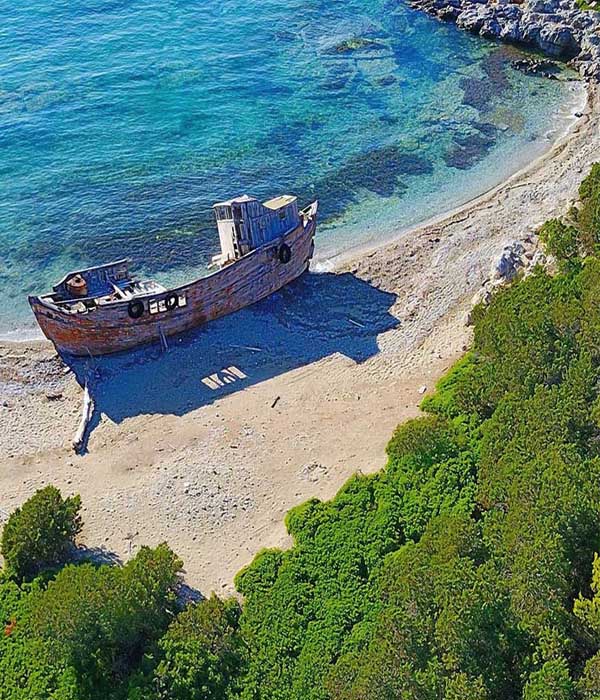 Skyros Island
---

Skyros is an island of the Sporades with many Cycladic elements. It is famous for its beautiful landscapes and is an ideal destination for a relaxing holiday.
In Skyros you will enjoy the sea and nature walks, you will eat delicious lobster and seafood, you will find beautiful ceramics and you will have fun in the shops of Chora.
The largest settlement is the village (Chora) with the name Skyros, where 95% of the island is concentrated, with many interests, such as the Skyrian houses which are each a small museum, the picturesque cobbled streets, the ancient castle, the Monastery of St. Georgiou.
Skyros has many wonderful beaches that satisfy even the most demanding tastes. Most do not have umbrellas and sunbeds, but there are several organized.
History and Sights
---

The great wealth of folklore and archeological findings and elements, with deep roots in history and mythology, keeps alive the pride of the inhabitants for their origin.
Some of the most famous sights in Skyros are the Historical and Folklore Museum of Manos and Anastasia Faltaits, the Monastery of Agios Georgios, the Castle of Skyros, the Archaeological Museum, the prehistoric settlement in Palamari, Brook Square with the statue of the English poet.
Special mention should be made of the small Skyrian horse (scientific name Equus Cabalus Skyriano), an ancient breed of Greek horses. Today, the Skyrian pony is a protected species, as it is one of the rarest horse breeds in the world and is threatened with extinction.
There are breeding farms on the island for breeding and protection of the Skyrian horse, where you can admire these sweet creatures up close.